ODETTE RELAXED BUTTON-UP SHIRT 2-PIECE SET #MADEBYLOVET (WHITE)
Top
Size
XXS (UK2)
XS (UK4)
S (UK6)
M (UK8)
L (UK10)
XL (UK12)
PTP
20 inches
20.5 inches
21.5 inches
22.5 inches
23.5 inches
24.5 inches
Shoulder
24 inches
24.5 inches
25 inches
25.5 inches
26 inches
26.5 inches
Sleeve
17 inches
17.25 inches
17.5 inches
17.75 inches
18 inches
18.25 inches
Arm Opening
3.5 inches
3.75 inches
4 inches
4.25 inches
4.5 inches
4.75 inches
Length
26.5 inches
27 inches
27.5 inches
28 inches
28.5 inches
29 inches
Bottom
Size
XXS (UK2)
XS (UK4)
S (UK6)
M (UK8)
L (UK10)
XL (UK12)
Waist (Stretchable)
11 inches

11.5 to 12 inches

12.5 to 13 inches

13.5 to 14 inches

14.5 to 15 inches

15.5 to 16 inches

Hips
17 inches
17.5 inches
18.5 inches
19.5 inches
20.5 inches
21.5 inches
Rise
12 inches
12.5 inches
13 inches
13.5 inches
14 inches
14.5 inches
Thigh
12.5 inches
13 inches
13.5 inches
14 inches
14.5 inches
15 inches
Length (Shortest front)
12.5 inches
13 inches
13.5 inches
14 inches
14.5 inches
15 inches
Length (Longest back)
14 inches
14.5 inches
15 inches
15.5 inches
16 inches
16.5 inches
Stick to your usual sizing for Lovet.
If you are in between sizes for PTP & Bottom Waist, best recommended to size down.
In between sizes refers to your measurements falling between 2 sizes, eg size S & M.
Sizing References
Model Minji UK6, 177cm (PTP 15.5", Waist 12 to 12.5") wears size S.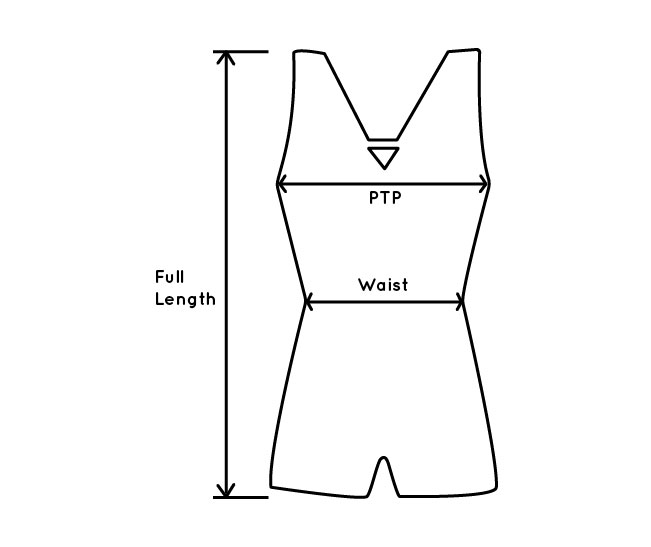 Material: Polyester cotton blend
Lining: No lining for top
Fully lined for shorts
Sheerness: Non sheer when worn with nude undergarment
Stretchability: No stretch for top
Stretchable for shorts
Features: Functional buttons for top
Elastic waistband for shorts
Functional pockets for shorts
Exclusively Manufactured by Lovet
Laundry Care


Hand wash in cold water


Normal heat iron or steam iron recommended


Do not tumble dry


Do not bleach