FLOYD EMBROIDERED KNIT 2-PC SET (FOAM GREEN)
Cardigan
Size
XXS (UK2)
XS (UK4)
S (UK6)
M (UK8)
L (UK10)
XL (UK12)
PTP (Unstretched)

10.5 inches

11 inches

12 inches

13 inches

14 inches

15 inches

PTP (Stretched)
14 inches
14.5 inches
15.5 inches
16.5 inches
17.5 inches
18.5 inches
Waist (Unstretched)
8.5 inches
9 inches
10 inches
11 inches
12 inches
13 inches
Waist (Stretched)
11.25 inches
11.5 to 12 inches
12.5 to 13 inches
13.5 to 14 inches
14.5 to 15 inches
15.5 to 16 inches
Shoulder
11 inches
11.5 inches
12 inches
12.5 inches
13 inches
13.5 inches
Sleeve
21.5 inches
21.75 inches
22 inches
22.25 inches
22.5 inches
22.75 inches
Arm Opening
2 inches
2.25 inches
2.5 inches
2.75 inches
3 inches
3.25 inches
Length
15 inches
15.5 inches
16 inches
16.5 inches
17 inches
17.5 inches
Top
Size
XXS (UK2)
XS (UK4)
S (UK6)
M (UK8)
L (UK10)
XL (UK12)
PTP (Unstretched)
9.5 inches
10 inches
11 inches
12 inches
13 inches
14 inches
PTP (Stretched)
14 inches
14.5 inches
15.5 inches
16.5 inches
17.5 inches
18.5 inches
Waist (Unstretched)
7 inches
7.5 inches
8.5 inches
9.5 inches
10.5 inches
11.5 inches
Waist (Stretched)
11.25 inches
11.5 to 12 inches
12.5 to 13 inches
13.5 to 14 inches
14.5 to 15 inches
15.5 to 16 inches
Length (Include strap)
13.5 inches
14 inches
14.5 inches
15 inches
15.5 inches
16 inches
Stick to your usual sizing for Lovet. Determine your size referring to the stretched PTP and Waist measurements as item is meant to be worn stretched.
If you are in between sizes, best recommended to size down.
In between sizes refers to your measurements falling between 2 sizes, eg size S & M.
Sizing References
Model Julie UK4, 167cm (PTP 15", Waist 11.5") wears size XS.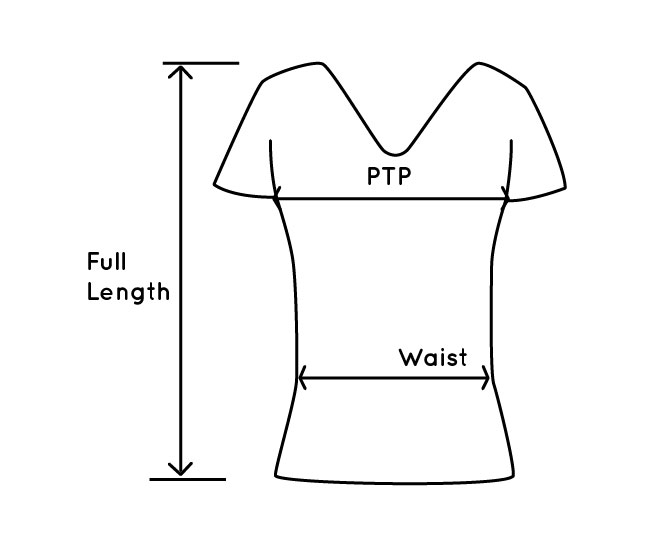 Material: Soft knit
Lining: None for both top and cardigan
Sheerness: Non sheer for both cardigan and top
Stretchability: Stretchable for both cardigan and top
Features: Floral embroidered knit design
Functional front button for cardigan
Non-adjustable elastic straps for top
*Floral embroidery placement differs for each piece
Exclusively Manufactured by Lovet
Laundry Care


Best recommended to hand wash in cold water. If machine wash, place apparel in laundry bag. Material might expand slightly after washing.


Normal heat iron or steam iron recommended


Do not tumble dry


Do not bleach